SWS Double Elite Automated Sectional Garage Door Finished in Anthracite Grey
Musa
SWS Double Elite Automated Sectional Garage Door Finished in Anthracite Grey & Installed in Bexley By Our Sidcup Branch.
Our customer needed to convert his double garage from using two garage doors into a one large automatic garage door due to the limited space within the openings within the two separate garage doors.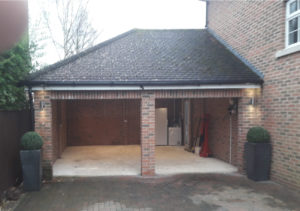 We completely transformed their garage by providing a double garage door conversion. We removed the centre pier and installed an RSJ lintel that spans the distance across the two openings, allowing space for much wider door and easier parking. All measured and customised precisely for their requirements.
The door we chose for this installation was the Elite sectional garage door from SeceuroGlide as these doors come with a range of unique design features to ensure they have a reliable door for many years to come. The Seceuroglide Sectional Garage Door also creates a stylish feature that is not only sure to enhance the look of the customer's home but also improves the security.
This Sectional Garage Door came fully automated through the Hormann Supramatic operator which allows faster automation allowing you to drive directly from the street into your garage. Vertical operation ensures you can park right up to your door and use your entire driveway.
The double weather-seal fitted to all of the SeceuroGlide Sectional doors gives you both an external seal against the weather but also an internal seal design to help form a thermal break on the door panel itself. The security features leave your home or garage totally protected and weather seals on all sides provided complete protection from low temperatures, wind and rain, ensuring your home is energy efficient, to save you money.
We supply & fit Garage Doors from Hormann, Garador & other leading manufacturers. To find out which is best suited for your needs call 0800 716 569 to speak with one of our experts or alternatively, visit www.accessgaragedoors.com to book your free survey.