We'll help you throughout the process to choose, select suitable options and install your new garage door, front, bifold or sliding door to your satisfaction.
You may have started looking for a new garage door for a number of reasons. Whether your garage door is broken and no longer viable to repair, or you simply want to improve the look of your house with a new door, our expert team are here to help and guide you through the whole process from choosing your new garage door, to our expert fitters and engineers installing your new door or sun awning.
We'll help you choose the right garage door as well as front door, bifold or sliding door. From canopy to retractable to automatic, we offer a wide range of garage doors and front doors from proven market leading manufacturers within the garage door industry, including Hormann and SWS.
Our unrivalled experience and expertise will ensure that you receive an installation of the highest possible standard and one that lasts you for many years to come. We can also tailor our installations to suit any requirements and complement your property's existing style and colour.
If you're looking to upgrade your double garage, we can easily convert your two single garage doors to one double garage door, to a size, style and finish that suits you. This includes RSJ lintel installation.
Make your life easier and add automation to your garage door for added security and convenience. Just ask us for more details and further information.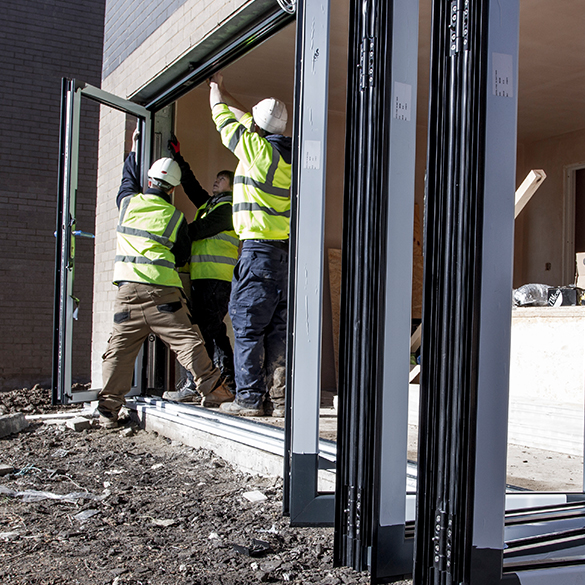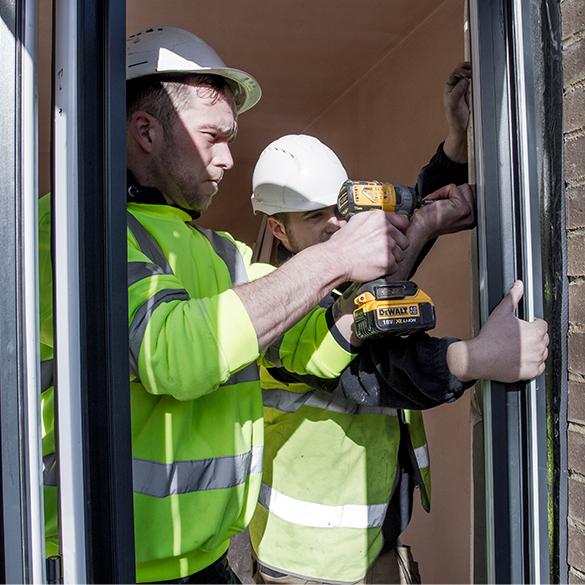 Prior To Installation
Your new door must be installed square and plumb to give you years of trouble free service. Likewise, your opening must be square and plumb to optimise the operation and the appearance of your door. We always like to point out some of the adverse site conditions that could affect performance of your new door:
If your door is not level at the opening, your door may not seal properly.
If your lintel is not level, your door may appear to be off level.
If your jambs or reveals are not plumb the appearance of your door may be affected.
If we are removing an old frame, there is no way to guarantee that brick or other masonry work will not be disturbed. We will carefully remove the old frame, but we cannot be held responsible for damage caused by the removal of the frame. For example loose masonry or plaster.
IN ADDITION FOR GARAGE DOORS
We often have to place fixings into the ceiling or walls of your garage and to find solid fixings we may need to make several holes as we try to locate solid points to fix into.
You must have a 13 amp socket in your garage in order for us to provide power to your electric opener. We cannot wire to a service board or lighting circuit. You will need a qualified electrician to wire a 13 amp socket at the opener head location (we will provide details on the proper location).
Installation Day
For garage doors and front doors, we generally insist that the door be installed after the floor is finished. However, if the finished floor is not yet in, you must clearly indicate where the finished floor level will be on the reveals so that we can install the door at the right height and set the limits on the opener (when automated). An additional call out charge will be incurred if we have to return to make adjustments to either the door or opener.
If your garage is being plastered, this work must be carried out before the door can be installed (including ceiling). Plaster in the track, guides or other workings of the door will damage the door and void your warranty.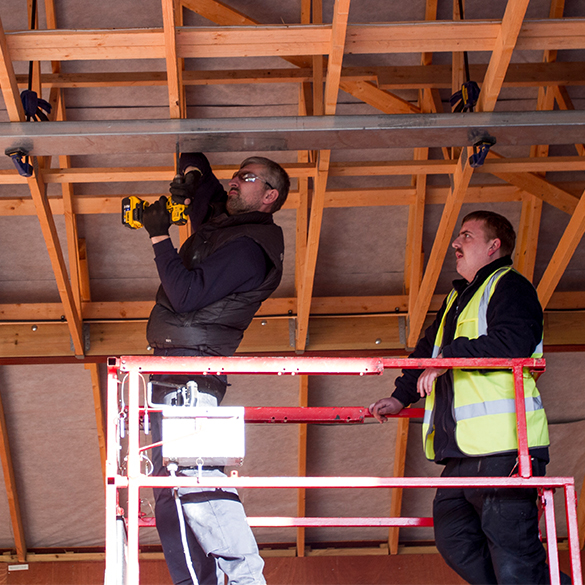 Book a Free Survey
Whether you already know which door you want or need some expert advice and more information, please get in touch.
We will be happy to help you find the best solution.
*FREE No obligations survey and estimates on all new installations. Excludes repairs.