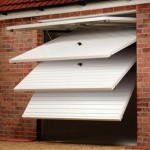 The range of retractable up and over garage doors that we install are specially designed to take heavier loads. If you are looking for a single panel door, or require a door to suit a larger garage opening, we may recommend you opt for a retractable garage door.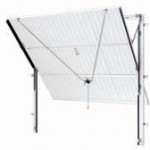 Canopy up and over garage doors have the simplest and most common type of garage door lifting gear. It provides the maximum drive through width when open and is the easiest to install. As the name implies a trackless canopy garage door forms a canopy roughly equivalent to one third of the garage doors height when fully opened. Generally only available on garage doors up to 8'0" (2438mm) wide.
This type of mechanism is not generally used if the garage door is to be automated, retractable/tracked gear would be the better option. Should you be looking to electrically operate an existing canopy garage door, there are a number of options available.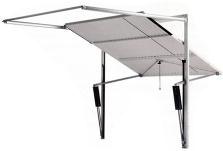 Retractable garage doors are fitted with overhead horizontally mounted tracks that the garage door runs on, along with side mounted pivot arms and springs to help support the garage door. When fully opened, retractable garage doors will almost fully retract.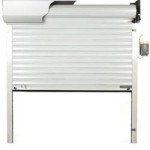 Roller garage doors are manufactured from tough twin-walled aluminium slats with an insulated core and are available in a choice of paint or wood – effect finishes. Can be manual or automated and available in single skin non-insulated.
We know that not every garage is the same. If you have a small or irregularly shaped garage opening a roller garage door may be the best solution for you. Our Warm Protect roller doors require minimal space to operate and allow you to maximise all of the drive through space available.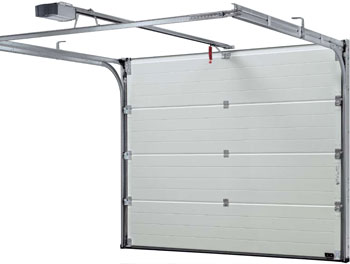 Sectional garage doors are non-protruding and open vertically thus providing maximum space both inside and outside the garage. Available in an attractive selection of designs and colours with space-saving technology, heat insulation and are safe and robust whilst providing low noise-operation.
Modern garages have become more than just a place to store the car – they are also offices, workshops and home gyms. Whatever you use your garage space for, the insulation properties of our sectional garage doors will help to reduce heat loss from your garage and create a warmer room.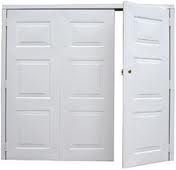 Ideal if you have obstructions inside your garage or limited headroom. Opening outwards, side hinged garage doors are easy and convenient to use and can be automated using conversion arms. There are numerous size, style, material and colour options available. Side hinged garage doors can be supplied pre-hung in their own steel frame or to fit existing or new timber frames.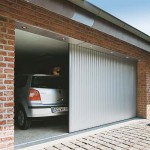 Sliding Garage Doors also known as slide around or round the corner garage doors, offer a lot of space under the garage ceiling as well as fast access to the garage. Because the door opens to the side, you can use the entire ceiling of the garage for storage and thanks to its unique design, the side sliding sectional door can also be used in difficult fitting situations with sloped roofs.