A Plus
Bifold Doors
Our Sliding & Bifold doors open up your living spaces allowing them to extend out on to existing patios or balconies for maximum space and exposure. These Bifold & Sliding doors are ideal for those hot summer months where airflow is much needed by not having any restrictive elements in the way.
By installing Sliding & Bifold doors within your home you'll allow more natural light to flood in your living spaces whilst allowing easy & unrestricted access to your balcony or garden.
Remove the boundary between your indoor living space & outdoor one through our Sliding & Bifold doors today.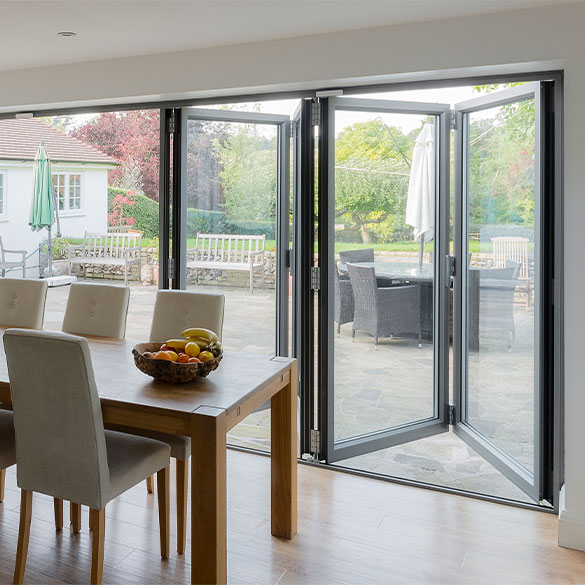 A Plus PlusFold Aluminium Bi-folding Doors
A European designed system offering above ground bottom running with multiple threshold options. The hardware and system are bespoke designed to give maximum carry capacity, whilst offering slim sightlines, oversized doors and minimum profiles.
The system is easily installed, the doors can open in or out using the same profiles, the sash and outer frame are both the same depth and give excellent thermal values. It is a truly inline system with bespoke hardware resulting in a high performance and very desirable, attractive door.
Maximum weight 120kg per panel
Maximum height 3000mm, maximum width 1200mm
Multiple threshold options
Adjustable jamb option
Ultra smooth bottom running
Slim sightlines
Dual Colour & Special Finishes available
Intermediate doors have concealed shoot bolt locking with single point handle. Key locking optional
Option for access from outside on any configuration
Colour matched handles and magnetic door holders
Every conceivable configuration achievable up to a maximum 7Left 7Right with bottom rolling
Opening either in or out using the same profiles
30mm polyamide thermal break for increased thermal values: Down to 1.4 W/(m2.K)*
Inline system with sash and outer frame the same depth
Document Q Compliant, Including PAS 24 and BS6375 Part 1 Weather Testing
*Depending on glass specification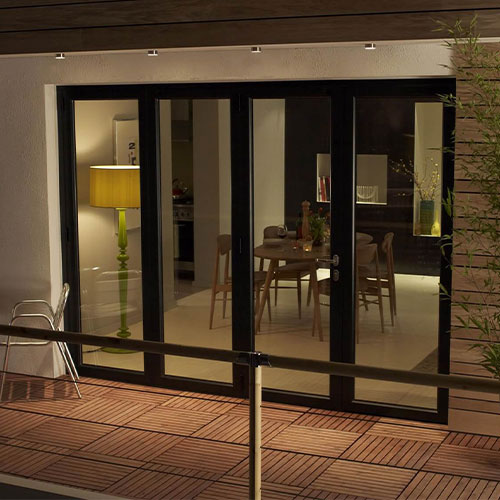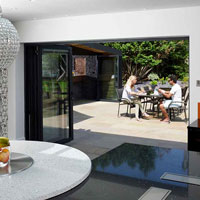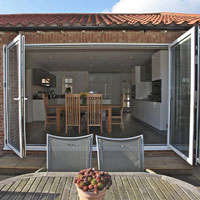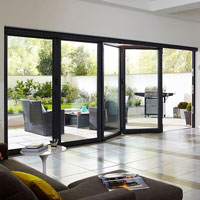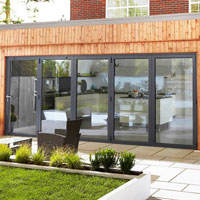 A Plus PlusGlide Aluminium Sliding Doors
A Plus aluminium sliding doors are a popular option for many applications from individual homes to apartments to commercial projects. We offer sliding doors to suit all requirements from simple patio doors to high specification sliding doors perfect for individually designed homes or project solutions. If you have a great view then sliding doors allow you to look at the outside, whether open or closed.
Sliding aluminium doors can be a cost-effective alternative to bi-folding doors and a great space saver when compared to French doors. With slim aluminium sightlines, our sliding doors have less frame and more glass so each pane allows as much light as possible.
You can choose from a wide colour range, for both internal and external surfaces. We offer a complete range of RAL colours all colour matched to other fenestration products within the range.
PlusGlide 47 Sliding
The PlusGlide 47 Sliding System provides a modern door solution with clean details and superb sightlines. The minimalist design includes a 47mm interlock and can accommodate a glazed unit up to 34mm, striking a perfect balance between cost effectiveness, aesthetics, thermal and acoustic performance, with panels measuring up to 2.5 metres (w) x 3.0 metres (h). PAS24 security is also available with the addition of extra lock points, reinforced interlock and anti-lift blocks.
PlusGlide 46 Lift & Slide
The lift and sliding door system provides one of the very best thermal performance levels of any sliding door system. It is the ideal solution for large openings, with panels measuring up to 3.3 metres (w) x 3.3 metres (h). With interlock dimensions starting at 50mm (depending on height/windload). This allows light to filter into the property while maintaining excellent thermal and acoustic properties.
PlusGlide Vision Hi
The product can be configured in a range of styles, from single track to double and triple track options and with two to six panels, each up to a maximum of 4 metres x 4 metres and with a corner solution. Manual & motorized options are available.
A dedicated external drain channel is also available with a steel finish. Locking is provided through a slim lever arrangement with keeps set into the frame.
Max glass weight 280kg
Air permeability class 3
Wind resistance class C5
Excellent energy efficiency U-values from 1.1 W/m2K*
Noise protection up to 40dB acoustic reduction
Exceptional water tightness class 7A
Opening options 2, 3, 4 and 6 sash options | Monotrack (one pane + fix) , 2 track and 3 track options
*Dependent on product configuration, dimensions and glass
Max glass weight 400kg
Air permeability class 4 (maximum)
Wind resistance class C5 (maximum)
Excellent energy efficiency U-values from 0.9 W/m2K*
Noise protection up to 43dB acoustic reduction
Exceptional water tightness class 9A
Opening options sliding two, three, four and six panes | Three-track | Two-track & Mono-rail (one pane + fix)
*Dependent on product configuration, dimensions and glass
Max glass weight 400kg Manual / 700kg Motorised
Air permeability class 4
Wind resistance class C3
Excellent energy efficiency U-values from 0.9 W/m2K* (max glazing 54mm)
Noise protection up to 43dB acoustic reduction
Exceptional water tightness class 7A/9A**
Opening options Monorail, Twin & Triple Track Options | 2,3,4 & 6 Panels | Corner Solution
*Dependent on product configuration, dimensions and glass **depending on configuration