Markilux MX3 Fully Cassetted Sun Awning Finished in Red
Musa
Markilux MX3 Fully Cassetted Sun Awning Finished in Red & Installed By Our Sidcup Branch.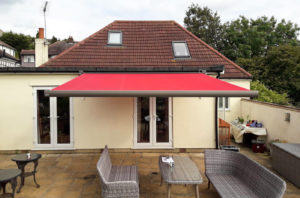 This Markilux MX3 Sun Awning's cassette was finished in Red, which when closed makes a good impression with its harmonious appearance. This awning came with a somfy motor which allows users to control their awning through an app on either their phone or tablet. This awning also included bionic tendon operation which uses high tech kevlar fibres ensuring superior power transference to front profile and noiseless operation.
With showrooms across the South East & London, we're fully equipped to display various Awning styles, finishes and mechanisms.
Putting customers first for over 40 years, our fully trained professionals can quickly install a new awning or front door!
If you're looking to add or replace an Awning, look no further!. Call 0800 716 569 to speak with one of our experts or alternatively, visit www.accessgaragedoors.com today to book a free survey.