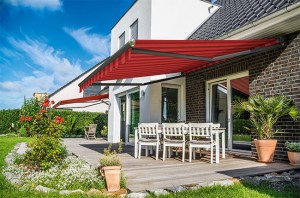 Our automatic and manual Access awnings by leading manufacturer Markilux will improve the quality of lifestyle you enjoy at home. Access patio awnings come in a wide variety of sizes and styles, with hundreds of colours to choose from. We strive to ensure that you purchase the right awning for your individual needs maximising the pleasure, enjoyment and practicality that your awning purchase will provide you with. To find our more visit our Access Awning site.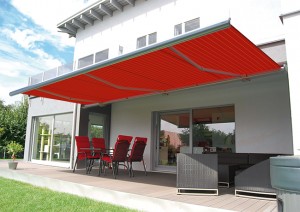 Create a comfortable place in your garden
Enjoy your summer from spring to autumn
Enjoy your balcony all year around
Design meets technology
Add value to your home
Free no obligation on-site survey
Access Awnings strive to ensure that you purchase the right awning for your individual needs maximising the pleasure, enjoyment and practicality that your purchase will provide.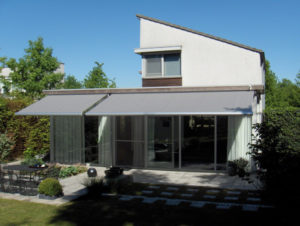 Verano's high-quality sun protection solutions guarantee comfort in your house and garden. Enjoy the shade and privacy under a beautiful terrace cover, in short, Verano products allow you to experience indoor and outdoor living in the best and most comfortable manner.
Verano products are customised especially for you to fully match your desires and your situation. In addition, Verano continuously optimises its products; innovation plays an essential role in this. You can always be certain that you acquire products that meet the latest trends and standards.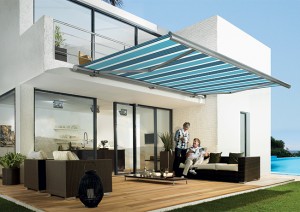 Cassette awnings offer all-round protection. Both the cover and arm mechanism remain in a fully enclosed cassette when retracted.
Weatherproof all-round protection
Directing light– indoors and outdoors
Regulating the climate – and saving energy
Setting shade where it is needed
More spacefor the summer
Extending the house – adding value to your home
This practical awning style provides the perfect protection for the roller, cover and the complete arm system – because they are all stored in a closed cassette. When retracted, the moving arm part closes and seals the cassette: meaning that foul weather, wind and dirt stay out – and your markilux remains as attractive as it was on the day you bought it. Cassette awnings are the perfect choice if you want to provide the best protection for your favourite place in the world.
Want to see these awnings? Download Markilux Patio and Balcony Awnings Brochure
Markilux 1200 – Folding-arm Cassette Awning
Markilux 3300 – A favourite among commercial awning
Markilux 5005/5000 – Practical and visually excellence
Markilux 5010 – Slim, strong and simply
Markilux 6000 – Three different style lines –Club, Studio and Lounge
Markilux 915 – Small, Practical and Robust
Markilux 990 – Small, Practical and Functional
Markilux ES-1- A masterpiece in brushed stainless
Markilux ES-X – Inspired by the classic design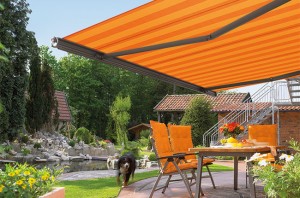 In the case of semi-cassette awnings, the awning cover is protected by an encompassing cover board when the awning is retracted. The awnings are open underneath.
Versatile
Sophisticated
Understated
Protection against the weather
Semi-cassette awnings are a prize-winning development from markilux. Their appearance when closed is similar to that of a cassette awning, and optically they are just as impressive. The design of the semi-cassette awnings from markilux incorporates a comprehensive, pre-assembled top gutter, which provides protection against the weather to the roller and mechanism, both from above and below. The underside of the semi-cassette is open, because the all-round protection guaranteed by a cassette awning is not a necessity in every situation.
Want to see these awnings? Download Markilux Patio and Balcony Awnings Brochure
Markilux 1500 – The markilux to suit all tastes.
Markilux 1550 – With integrated halogen spotlights.
Markilux 1600 – Unique design, classic arm technology.
Markilux 1600 Stretch – The perfect solution for narrow patios, niches and balconies.
Markilux 1600 Skylife 2 – Exceptional design, thorough technology.
Markilux 1650 – The awning with integrated halogen spotlights.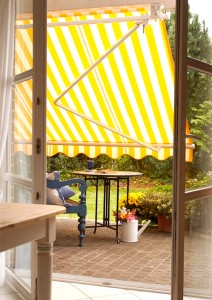 Open Awnings – Tailored to any requirements and any budget
Open folding-arm awnings offer cover and technology without all-round protection. They are mainly intended for protected installation under overhanging roofs.
Robust
Reliable
Water easily runs off to the sides
Easily to use pitch adjustment
Provides the right amount of shade and privacy
Strong, distinctively shaped arms and a round steel-link-chain ensure a taut cover
An open style awning does entirely without a cassette. The mechanics and roller tube are perfectly visible. Therefore, this awning type is particularly suited to installations such as reveals or large roof overhangs, which assist in protecting the awning.
Want to see these awnings? Download Brochure Markilux 911 – Quality without Torque Bar
Markilux 930 Swing – Open folding-arm awning with unique pivoting
Markilux 1000 – A stylish attribute for patio or balcony
Markilux 1000 Stretch – Narrow widths with large extensions
Markilux 1100 – The awning with gas piston-tensioned
Markilux 1300 – The Markilux with options
Markilux 1300 Stretch – The perfect solution for niches and balconies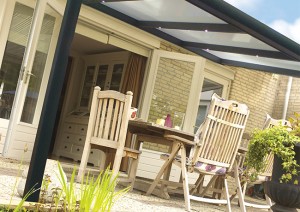 Piazza – Getting more from the great outdoors
Shelter from the rain and protection from the sun
Easy to clean and maintain
Adds value to your home
Optional heating and lighting
All weather roofing system
For more information on the Piazza download our guide.
Unlike nationally advertised companies, Access Awnings offer a free no obligation on-site survey without any hard sell tactics – and we do not turn away difficult installations – we will always make every effort possible to find a solution.
Check out all of the options and remember we are only a phone call away if you need any help or wish to book a free on-site survey.
If you want to see our awnings come visit one of our showrooms for a working demonstration and advice about size, style, fabrics and finishes available.