Access Garage Doors
HOW TO – Paint Worn Garage Doors
You'll need to source a good quality garage door paint for all round protection against any weather condition. It's also recommended to prime the door first for best results.  Some garage door paints include added protection against mould growth and paint film too. Bare in mind the garage door will require a total of 2 coats, and you'll have to wait until the following day to apply the re-coat.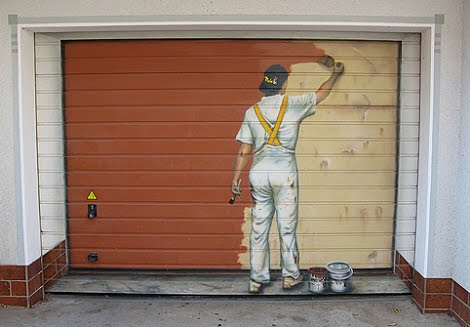 STEP 1: Clean your door
Wash your garage door and remove any dirt.
Ensure you rinse the door down and leave to dry.
STEP 2: Sanding the door
What your garage door type, metal or wood, it's essential to sand the surface prior to applying paint. Skipping this will mean the fresh paint will not attach itself to the door properly.
Use sand paper and use heavy grade sandpaper on any particularly rusted areas (metal doors)
Remove any dust by vacuuming or wiping down.
If you sand to far down you may need to add a primer top coat to the door. If this is the case, prime the door and then paint the following day.
STEP 3: Painting the door
Cover the drive in front of your garage door to avoid paint spillages.
Start from the top of the door and work your way downwards, using a roller to roll the paint onto the garage door.
Use a brush to paint the edges around the door.
You'll need a few coats so once the first coat is dry, apply a second layer. If possible leave the garage a few days to dry thoroughly before you start using it again.
If you need a new garage door browse our range of garage door types or contact us to find out more about of installation and fitting service.