Garador Guardian Range
Access Garage Doors
The UK's first range of Up & Over garage doors to meet the Secured by Design accreditation. The Guardian Range of doors have been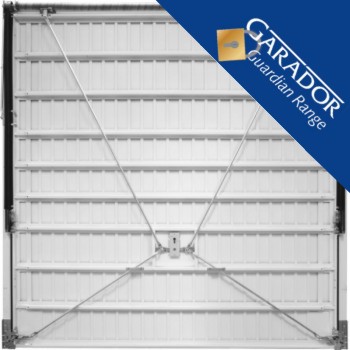 engineered to offer even greater security to meet STS202. (STS202 is a security technical specification that addresses attempts at manual burglary.) Currently available in two designs with either Retractable or Canopy gearing options and a choice of 7 standard colours. In addition, Garador can also offer a range of front entrance doors which are also SBD certified.
The new Guardian Range has been engineered to offer even greater security. Both the Craton and Horizon door styles are available within the Guardian Range and can be supplied with either canopy or retractable gearing options and in any one of the seven standard colours.
Features Include:
Lock Body Protection – A reinforcing plate has been added to the lock body to prevent attacks against the locking mechanism. This new plate protects both the lock body and the central locking rod anchor points.
Improved Lock Security – Additional plates added to the base corners protect the bottom locking points of the door. These plates ensure the bottom latches remain intact even under extreme attack to prevent access.
 4 Point Locking – A 4 point locking system is standard using steel rods operating steel security latches all protected behind braced areas and fed back to a high-security anti snap cylinder lock.
Anti-Snap Cylinder– The standard cylinder has been changed for a new anti-snap version which also incorporates a sacrificial front. The new cylinder is designed to prevent entry even after an attack.
High-Security Bracing – Braces at the back of the door have been increased from 2 as standard to 8 braces for extra protection. The number of spot welds has been increased by more than 70, further securing the door skin.
For more information contact the team on 0800 716 569.