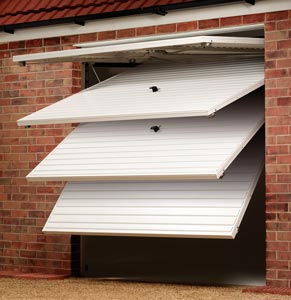 What lifting gear do I require and what material do I want the door to be made from?
When choosing a garage door, as with any home improvement product, there will be aspects of its looks and maintenance which will influence your decision. While all one-piece doors are manufactured using high strength reinforcing steel bracing to ensure rigidity and longevity, the exterior material used on the surface of your door needs to be carefully chosen to suite your requirements.
Steel garage doors offer a great combination of robust construction and excellent value for money. They are available in a wide range of attractive styles to suit modern or traditional homes. Our steel doors can be supplied in a range of colours and finishes as standard.
Timber garage doors combine the warmth and beauty of real wood and the very best of garage door engineering. Supplied treated with a microporous neutralising base stain, timber doors are designed to be stained to suit your requirements, and require regular care and attention to retain their good looks.
GRP (Glass Reinforced Polyester) garage doors offer the user a low maintenance finish combined with unrivalled aesthetics. With the choice of gloss white or authentic woodgrain finish in eight colour options, the range of popular designs with crisp, clean detailing will complement any house style. GRP garage doors need only the occasional wipe down to retain their quality finish.
To see our comprehensive range of garage doors download our brochure guides.